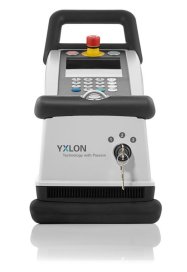 The new remote control is compatible with Y.SMART, Y.XPO and EVO units. Backward compatibility gives a second life to old hardware.
Supporting Y.SMART, Y.XPO and EVO technologies, the new control unit is able to solve all current tasks and is prepared for updating the model range of emitters. A powerful proc
essor, a modern operating system, Bluetooth, Ethernet and USB interfaces open up new possibilities for YXLON digital X-ray units.
Additional features:
6.5 "high-contrast color display.
Intuitive Service and User Menu
Limit kV and exposure time options
Demo mode for training
Diagnostic reports written to USB
Service messages in text format
Connectors for external signal lamps, door switches, Ethernet and USB
Exposure calculator.
More information: YXYLON SMART EVO
| Specifications | Control  EVO |
| --- | --- |
| Control | Y.SMART, Y.XPO и SMART EVO |
| Connection interface | USB, Ethernet и Bluetooth |
| Display | Color, 6.5" |
| Special features | Shoulder strap |
| | Direct access to parameters kv, мА and time |
| | Exposure Calculator |
| | Emergency stop |
| Weight | 13 kg |
| Power supply | 85-264 AC, 45-65 Hz |
Remote control for digital X-ray units YXLON SMART Evo series