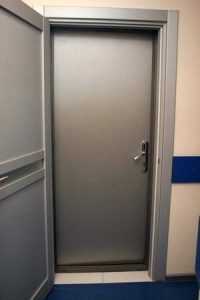 X-ray protective doors are designed to protect patients and staff from x-rays and gamma radiation.
Doors are made taking into account all the wishes of the customer (size, lead equivalent, material and colors of finish, type of accessories, etc.)
Doors are protected with a given lead equivalent of 100% of their area.
Each door is checked for compliance with the lead equivalent in the certified laboratory of Radiation Protection of the Kharkov Institute of Standardization and Metrology and is completed with the appropriate certificate.
In addition to the X-ray protective doors, we manufacture other X-ray protective structures:
– screen;
– shutter;
– windows;
– any non-standard X-ray protective structures.
We offer materials for the protection of X-ray rooms:
– lead sheet;
– barite.
We advise on the optimal selection of materials for X-ray protection of classrooms.