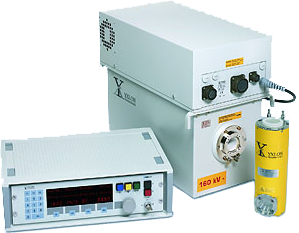 X-ray units of the MG series are double-pole x-ray units with a conversion frequency of 40 kHz, which are distinguished by a very high output stability, precise energy setting and an extremely fast output to a given mode. Any deviations from the specified values are corrected for microseconds.
These properties make them excellent candidates not only for use in radiography and radioscopy, but also for scanning methods. In addition, these properties reduce the time of control and, accordingly, increase its performance.
The high energy and dose rate of 4.5 kW bipolar units can be used to control a wide range of objects from light alloys and thin-walled materials to high-density materials with a thickness of up to 115 mm in iron.
A wide range of applications requires a versatile and easy-to-use control system. Basic settings are carried out through the menu. The operating mode, status, and messages about internal and external faults are displayed in text. Additionally, a digital trouble code is displayed. In addition, 100 exposure programs can be recorded for future use. When connected via a serial interface, the number of programs in an external computer is unlimited.
All parts of the units are splash-proof. High-voltage generators and power units meet the requirements of IP54.
Main characteristics:
Constant voltage with isowatt mode – automatic control of the power limit and tube characteristics
Entering system information through the menu:
Language selection – English, German, French, Spanish
Serial interface
Tube selection
Warning time
Display contrast
Hour counter
Service menu
The memory of the 99 most recent exhibits
Power supply (single phase):
230 V + 10% -15%, 50/60 Hz
MGP 41 protection: 50 A
Exposure Timer (four digit SD):
Set to infinity for radioscopy
Up to 10 minutes in a pitch of 1 second
Up to 99 minutes 50 seconds in a pitch of 10 seconds
Warning: setting through the menu from 1 to 30 seconds
Handset selection: via menu
Software operation: memory for 100 programs (kV, mA, time, focal spot), programming with the numeric keypad
3-level auto tube training program
Ambient conditions:
Work cycle: 100% to + 40 ° C with still air
Operating temperature: from 0 ° С to + 40 ° С, relative humidity 90% at + 40 ° С, non-condensing
Storage temperature: from -25 ° C to + 70 ° C, relative humidity 95% at + 40 ° C, non-condensing
Additional parts:
RS232 serial port for MGC41
PC software for MGC41
Range selector: MG452: 30 mA; MG325: 45 mA
Mobile tripod
Beam centralizer and diaphragm set
Clip for tube
Other options available on request.