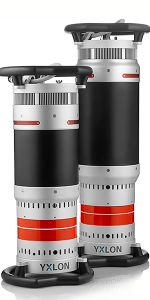 Panoramic X-ray machines 200P and 300P are a line of Smart Evo YXLON monoblock panoramic industrial X-ray machines. The devices solve the problems of non-destructive testing in the field of radiography in aircraft and mechanical engineering, energy, ferrous and non-ferrous metals, as well as in the oil and gas sector. They are used to detect defects in products or welded joints.
The Smart Evo 200P and 300P are lightweight. The 38˚ x 360˚ focal spot size makes the SMART EVO 200P and 300P ideal for weld inspection of cylindrical vessels and pipes. There is a built-in exposure calculator with the ability to control in real time. A wide range of films and materials are supported. Composite impact-resistant housing and high-quality sintered X-ray tube allow operation over a wide temperature range from -20 ° C to 50 ° C.
The Smart Evo 200P and 300P line of devices comply with international European safety standards, including element-wise quality control.
| | | |
| --- | --- | --- |
| SPECIFICATIONS | SMART EVO 200P | SMART EVO 300P |
| WEIGHT | 28 kg | 36 kg |
| HEIGHT | 665 mm | 804 mm |
| FOCAL SPOT SIZE EN 12543 | 0.4 x 4.0 mm | 0.5 x 5.5 mm |
| HIGH VOLTAGE ADJUSTMENT | 30 – 200 kV | 50 – 300 kV |
| mA ADJUSTMENT | 0.5 – 6.0 mA | 0.5 – 4.5 mA |
| MAX X-RAY POWER | 750 W | 750 W |
| BEAM ANGLE | 38˚ x 360˚ | 38˚ x 360˚ |
| LEAKAGE RADIATION | Max. 2.0 mSv/h | Max. 5.0 mSv/h |
| ENVIRONMENT | IP65 | IP65 |
| TEMPERATURE RANGE | -20˚C to +50˚C | -20˚C to +50˚C |
| CONT. EXPOSURE 35˚C, MAX kV, MAX mA | Min. 1 hour | Min. 1 hour |
Panoramic X-ray device SMART EVO 200P and 300P